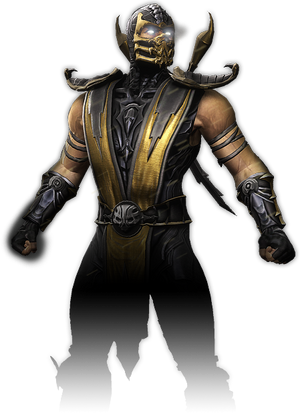 Scorpion
, along with his rival
Sub-Zero
, is the poster boy of the
Mortal Kombat
franchise, and has appeared as a playable character in almost every single game to date.
Mortal Kombat
Mortal Kombat II
Ultimate Mortal Kombat 3
Mortal Kombat Trilogy
Mortal Kombat 4
Mortal Kombat: Deception
Mortal Kombat: Deadly Alliance
Mortal Kombat: Armageddon
Mortal Kombat (2011)
Injustice: Gods Among Us
Mortal Kombat X
Biography
Edit
Hanzo Hasashi was one of the many victims of the Shirai Ryu ninja clan massacre at the hands of the Lin Kuei, along with his family. Cunning sorcerer Quan-Chi resurrected the vengeful spirit of Hanzo as the hellspawn Scorpion, endlessly bent on the death of his supposed murderer; Sub-Zero.
Abilities and equipment
Edit
Scorpion is a demon with potent pyrokinesis and teleportation. His primary weapons are a roped kunai he can launch out of his hands and a pair of Ninjatos. He is, as a ninja and Mortal Kombat character, an amazing martial artist, acrobat, and has a superhuman prowess.