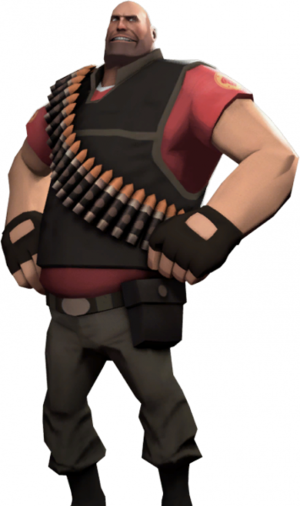 The Heavy
is one of the nine classes of
Team Fortress 2
.
Biography
Edit
Mikhail, nicknamed Misha, is a simple, large Russian man with a love for battle. He either fights on the RED mercenary team, or the BLU mercenary team, as the most intimidating and physically powerful member. He is also friends with the Medic.
Abilities and equipment
Edit
The Heavy is a 7 foot tall hulk who can murder grown men to death with no struggle and with his bare hands. He is incredibly durable as well, able to shrug off several rockets to the face, but for balance purposes, is also very slow. He favors mini-guns, particularly the default one, whom he affectionately dubbed as "Sasha" and shotguns.
Ad blocker interference detected!
Wikia is a free-to-use site that makes money from advertising. We have a modified experience for viewers using ad blockers

Wikia is not accessible if you've made further modifications. Remove the custom ad blocker rule(s) and the page will load as expected.